Sixty (60) select indigenous men and women representing 10 barangays in Abra went through an intensive two-day Microhydro Operations and Maintenance Training conducted by SIBAT last March 25-26 in Tubo Abra. The trainees were chosen by their respective communities based on their interest and willingness to do the job. Those who commit for the training should have no plan of leaving the community in the next two years. This is to equip local partners with at least the basic technical know how in operating and maintaining their michrohydro systems to lessen downtimes and breakdowns.
They were made to get a good grasp of what a michrohydro system is, its parts and vital components, how it operates and what causes break down. They were also taught to identify critical areas of the system that have to be regularly maintained like schedules of parts replacements, cleaning up and lubrication of its components. Added to their tasks is load management monitoring to prevent overload use which is one usual cause of break down especially in systems that do not have Electronic Load Controls (ELCs) installed yet.
Before receiving their certificates of completion, all have to pass the basic electricity works, specifically repairing busted wirings and bulbs. This should light on as some sort of passing their final examination. Their respective POs or LGUs will provide a token honorarium for the local operators for their services once they start working.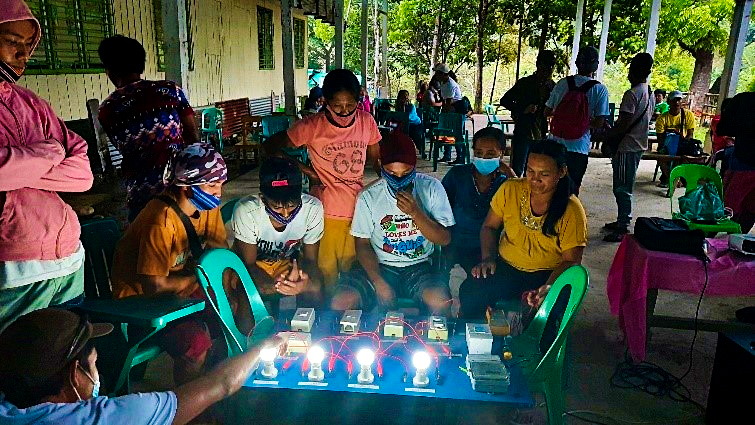 Building local capabilities to operate and maintain, the MHPs is key to its sustainability. This is one of the pillars of the CBRES (Community-Based Renewable Energy System) concept. Most of the CBRES have been operating for 10-15 years now with the community leading its management and ensuring its sustainability. SIBAT is taking on the technical advisory support role. Developing local technicians has become imperative as SIBAT technicians could not immediately respond to trouble shoot given the distance. This can also help avert costly repairs and parts replacements which are perennial problems in the past. ###